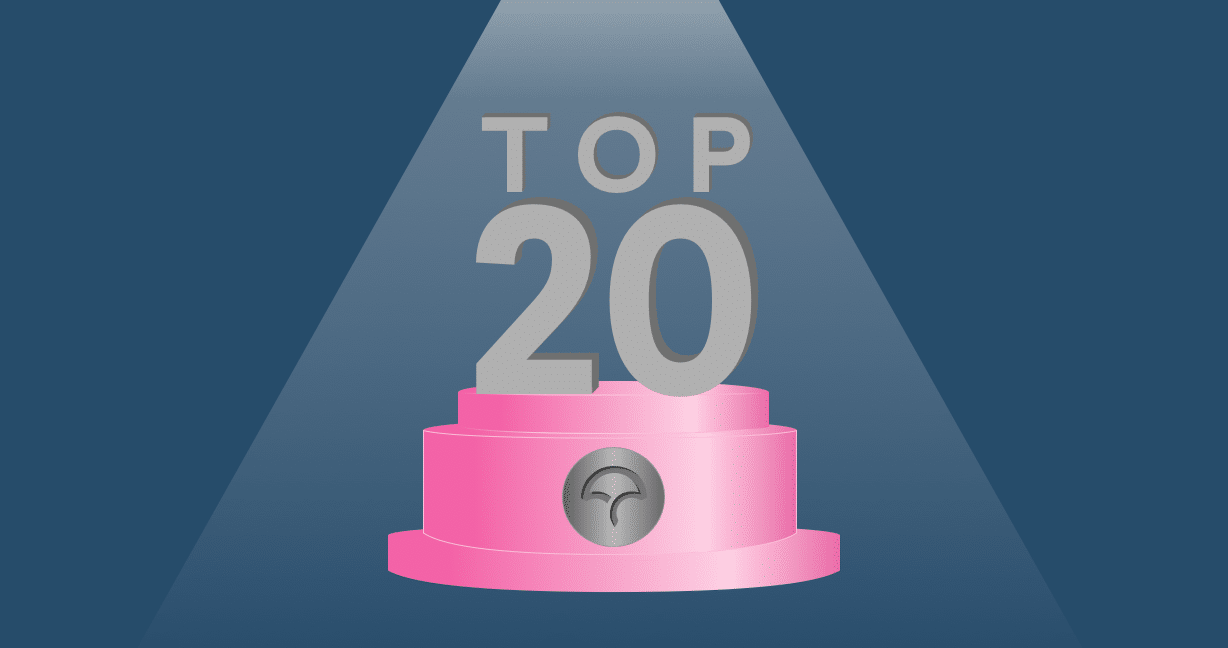 It's an understatement that application test processes have a lot of steps. From planning, script design, behavioral and functional testing, the whole process can be daunting and time-consuming. It becomes even more challenging if you have to ensure compliance with various industry regulations.
This article explores the top 20 software testing and quality assurance companies. These companies provide different application testing solutions enabling you to focus on other critical aspects of your organization while guaranteeing that your testing process is structured and successful.
Why Externalize App Testing?
Research firm Gartner, defines application testing services as "a comprehensive term used to capture all types of verification and validation services to support quality control and QA of clients' applications."
While it may be easier to control internal software testing with your in-house IT team, it's far more expensive. Plus, having an outside perspective on your software allows you to catch errors your team might otherwise overlook.
Usually, software testing services:
Provide externalized app testing. These expert testing services use a comprehensive range of testing frameworks, tools, and technologies that your team might not even have the scope to be aware of.
Eliminate worries. You don't have to worry about logistics issues, like having enough space to test your apps or whether you can handle the problems that occur during the testing process.
Improve efficiency. Outside services enable faster delivery of testing projects and provide high-quality results in a fraction of the amount of time it would take your in-house team.
Reduce project costs. Software testing services help save money, enabling you to create accurate budgets.
However, finding the right software in a saturated market can be difficult. You need to consider if the company you choose will understand how your products work and if you can trust them to do the job well. What if they don't actually save you money or boost efficiency?
The criteria this list is built on includes Gartner's Magic Quadrant for Application Testing Service Worldwide as well as functionality, UX performance, cross-device integration, and high-automation capacities.
Top 20 Software Testing Companies
Let's dive into a quick review of the top twenty software testing and quality assurance services companies of 2021.
QualityKiosk Application Testing Services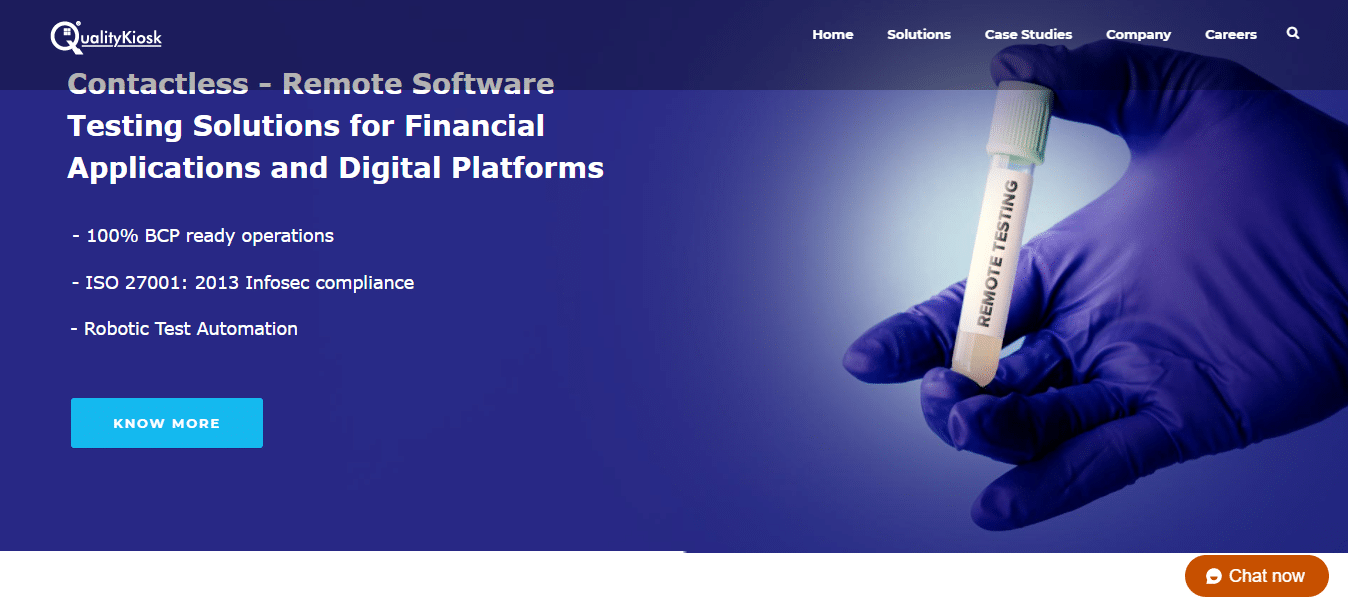 Headquartered in Mumbai, QualityKiosk Technologies, is an independent, digital, quality assurance provider with a wide network of quality assurance experts across twenty countries. It focuses on business automation, advanced analytics, and customer experience.
One of the reviews on Gartner's peer insights page highlights the exponential increase in their automation capabilities after using QualityKiosk's products, as well as their ability to automate use cases in AI, machine learning, and RPA integration with chatbots.
Cigniti Application Testing Services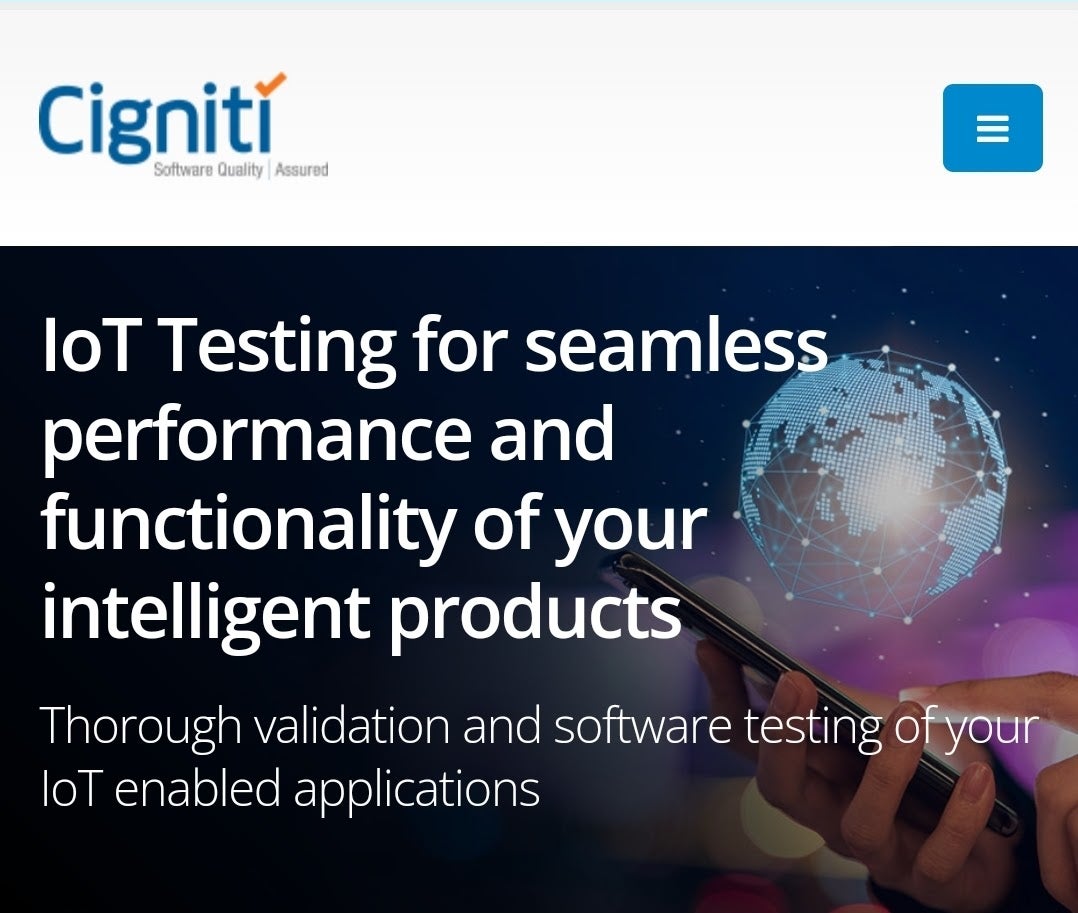 Cigniti is an independent software testing company that harnesses the power of AI in Agile and DevOps. Its expertise with IoT app testing means it has broad testing capabilities like:
Robust testing infrastructure (ie test labs, test racks, simulators, etc.)
Support for real-time testing of big data, compatibility, IoT security, performance, pilot compliance, reliability, usability, and smart devices in dynamic environments
Cigniti's software testing services are trusted by over 350 clients across thirteen countries. Brands that trust its services include AstraZeneca, Snapdeal, Alfa Insurance, and AirAsia.
QualiTest Group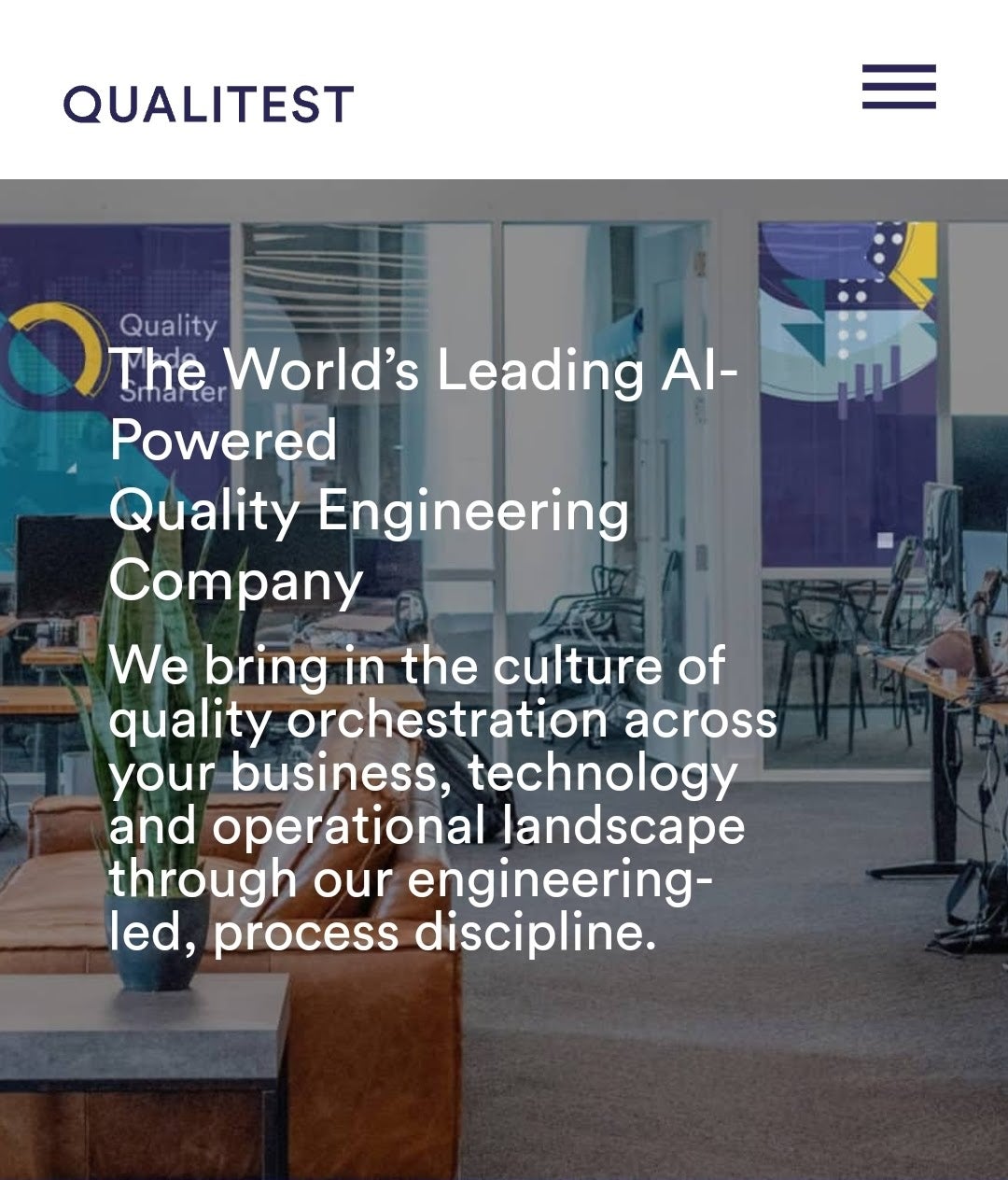 QualiTest Group uses custom AI testing solutions to ensure the success of their client's goals. The group's software expertise covers several industries, including healthcare, banking, telecommunications, and media. Its testing services include enterprise transformation, QA optimization, scaled Agile to CRM, ERP, cloud testing, and more.
In 2019, QualitTest Group was named a leading and visionary QA and testing service with Gartner's Magic Quadrant for Application Testing Services Worldwide.
TestRail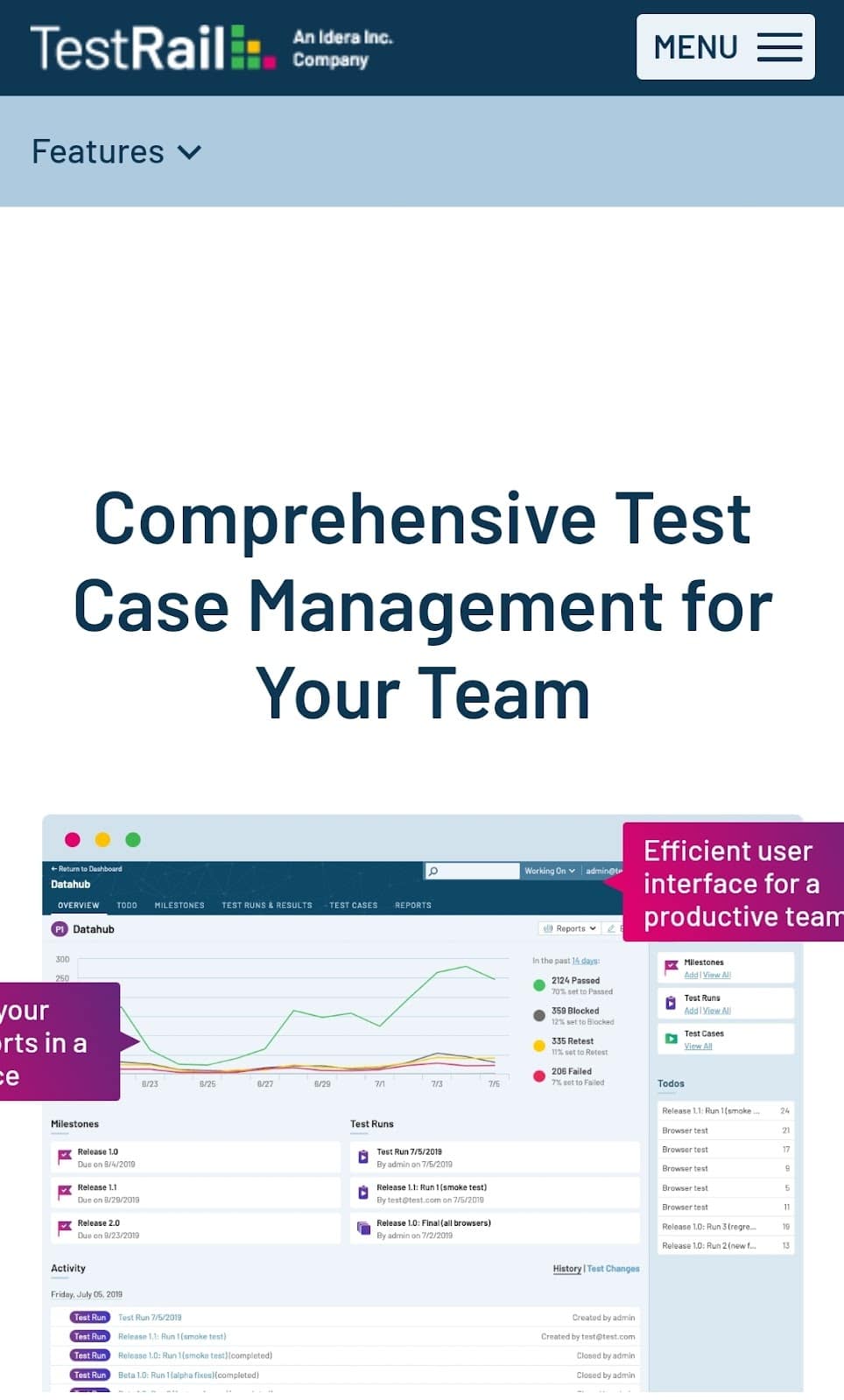 TestRail is a web-based test case management solution that provides comprehensive test case management for QA and development teams. It ensures efficient tracking and management for your software testing.
TestRail also integrates with automated bug trackers and tools like Atlassian Jira, GitHub, Redmine, Asana, and Trello to boost productivity.
Thousands of teams use TestRail across the world, including Eventbrite, Airbus, Argos, Fitbit, and PayPal.
QATestLab Application Testing Services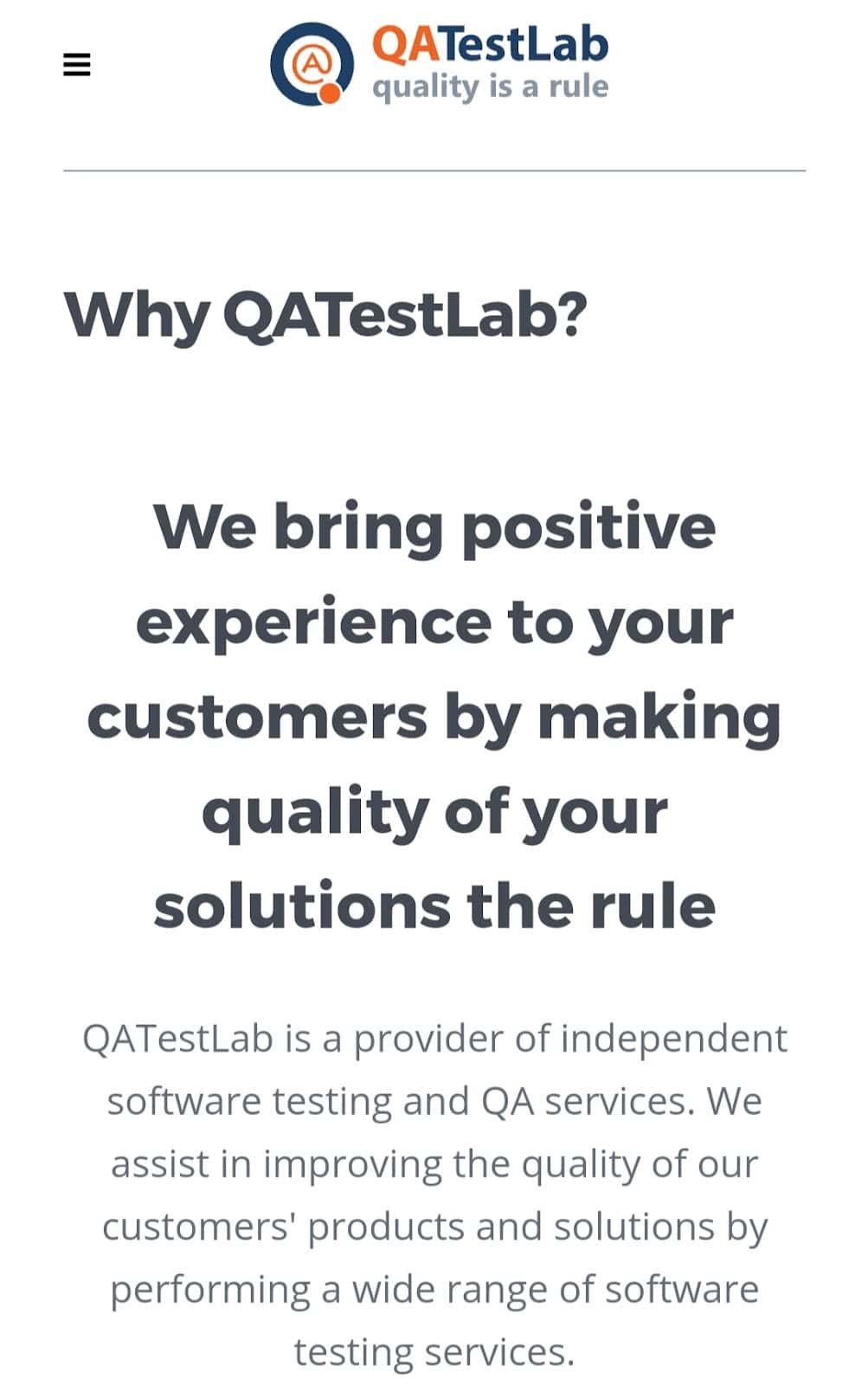 With 15 years of industry experience and a team of over 250 QA engineers, QATestLab offers software QA and testing services for mobile, web, desktop, and cloud-based applications. It's quick to set up, easy to use and works with projects of any size and complexity. Bonus, it can be used on-demand.
QATestLab's test automation service accelerates the checking process, enabling you to release quality applications without delay.
Their test automation services are used across several industries, including healthcare, e-learning, e-commerce, banking, and finance.
NTT Data Application Testing Service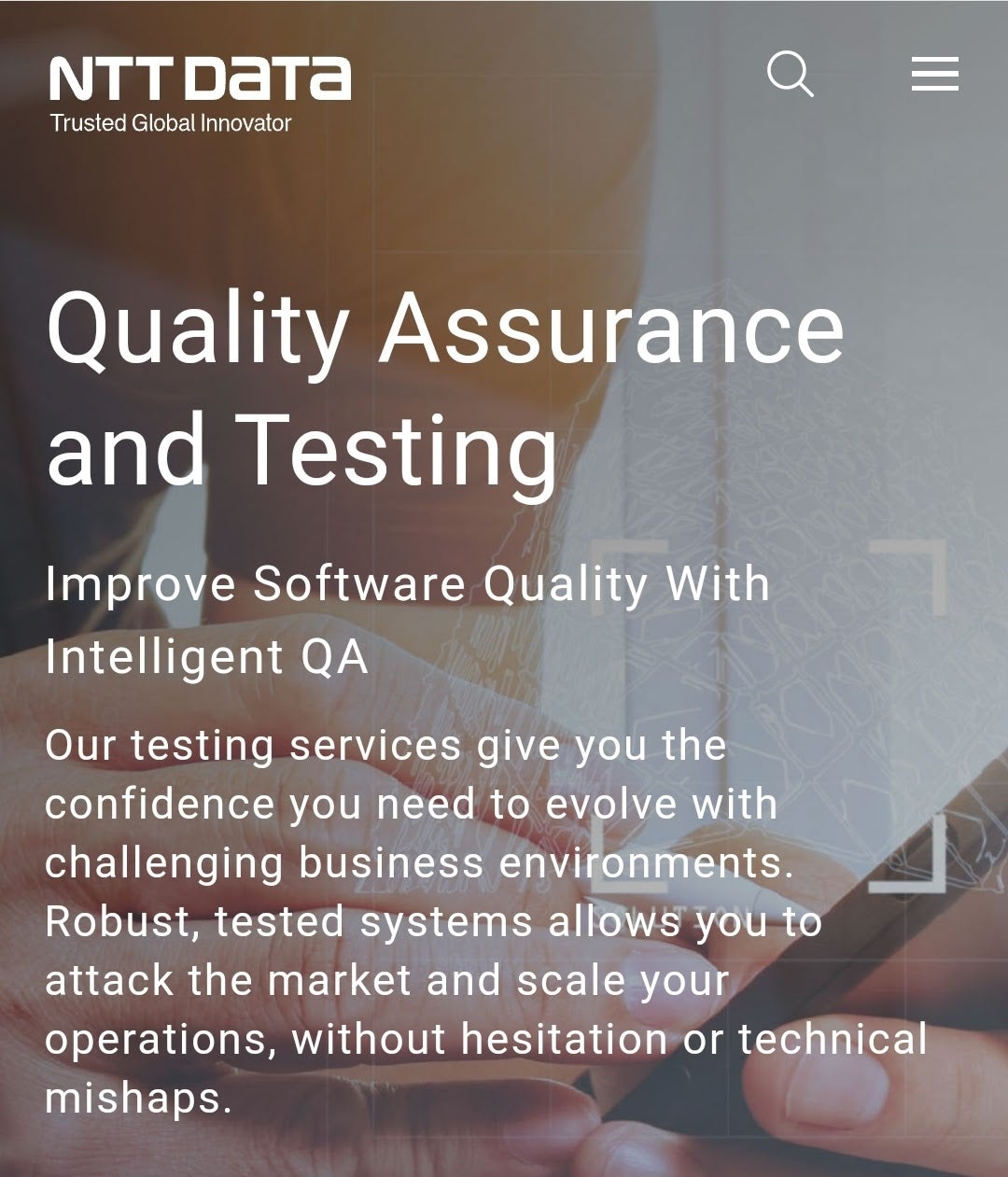 NTT Data's approach to software testing detects and prevents defects. It offers a complete range of testing services for companies across a variety of industries, particularly modernization and transformation projects. Its industry-specific solutions cover automotive, the public sector, banking and financial services, transportation and logistics, and manufacturing.
Its data solutions and processes like Terasoluna, SDEDO framework, Open2Test, QATalyst, and Mobile quality 360 provide accelerators and frameworks that ensure comprehensive tests.
NTT DATA Application Testing Services falls slightly behind Applause Application Testing Services, which you can read more about on Gartner's peer insights.
Accenture Application Testing Services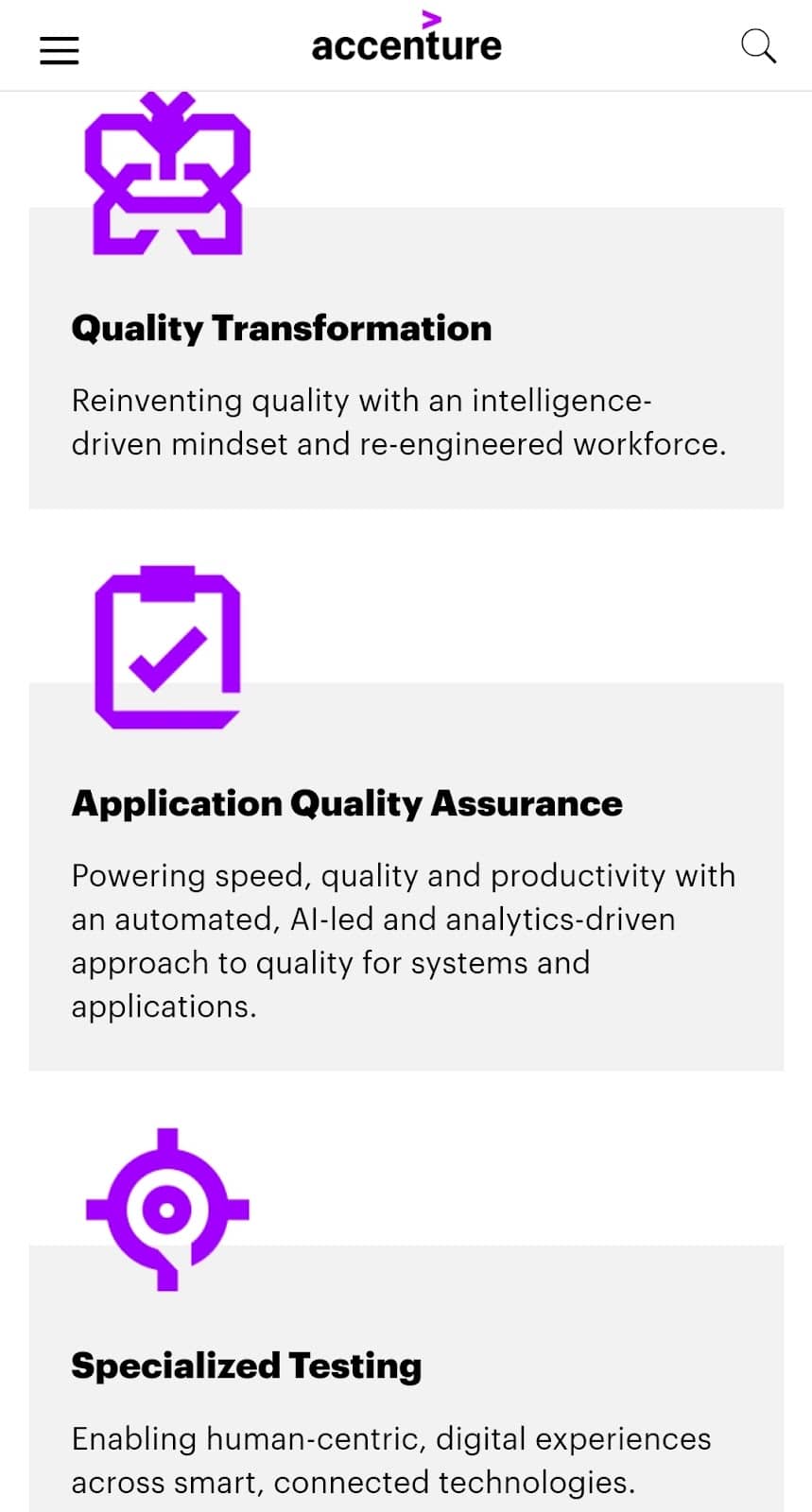 Boasting over thirty years of experience in engineering services, Accenture takes an AI-led approach to software testing. Its quality engineering team services over 1,000 global clients and offers QA automation, continuous testing, DevOps, and Agile development.
Reviews on Gartner rate Accenture Application Testing Services above NTT DATA Application Testing Services in two categories:
More effective at planning and transition
Better evaluation and contracting
Accenture has clients in over forty industries, including manufacturing, healthcare, finance, media, energy, natural resources, and life sciences.
PractiTest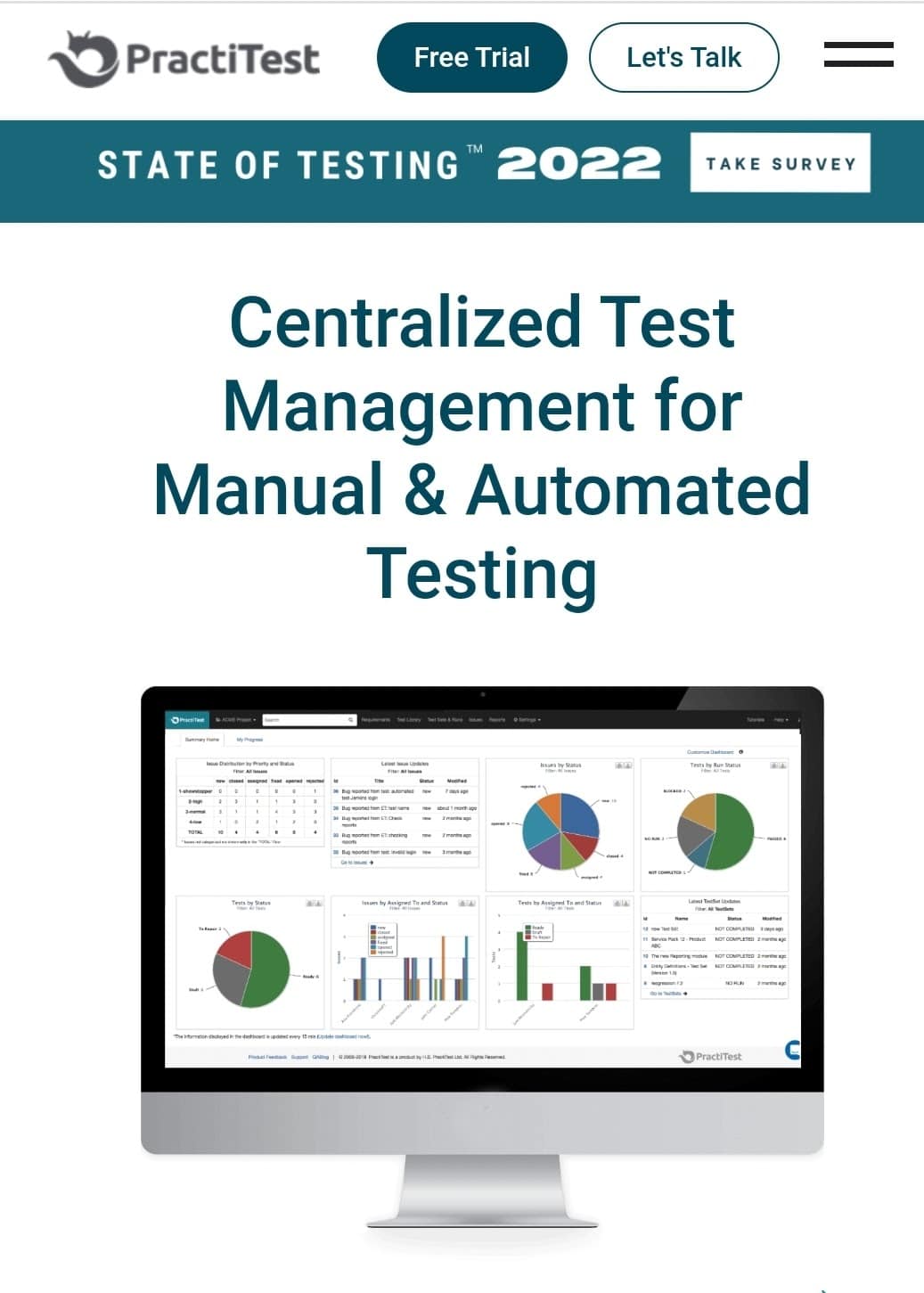 PractiTest is a test case management platform that helps organizations create, deploy, and run software with confidence. It enables you to:
Run and manage all your QA efforts in one place.
Reuse your testing elements to save time.
View and control your entire application lifecycle management (ALM) in real-time.
Create customizations to fit your needs.
Its clients include McAfee, Toyota, and The New York Times, and it's a member of the prestigious Forbes Technology Council.
Enov8 Ecosystem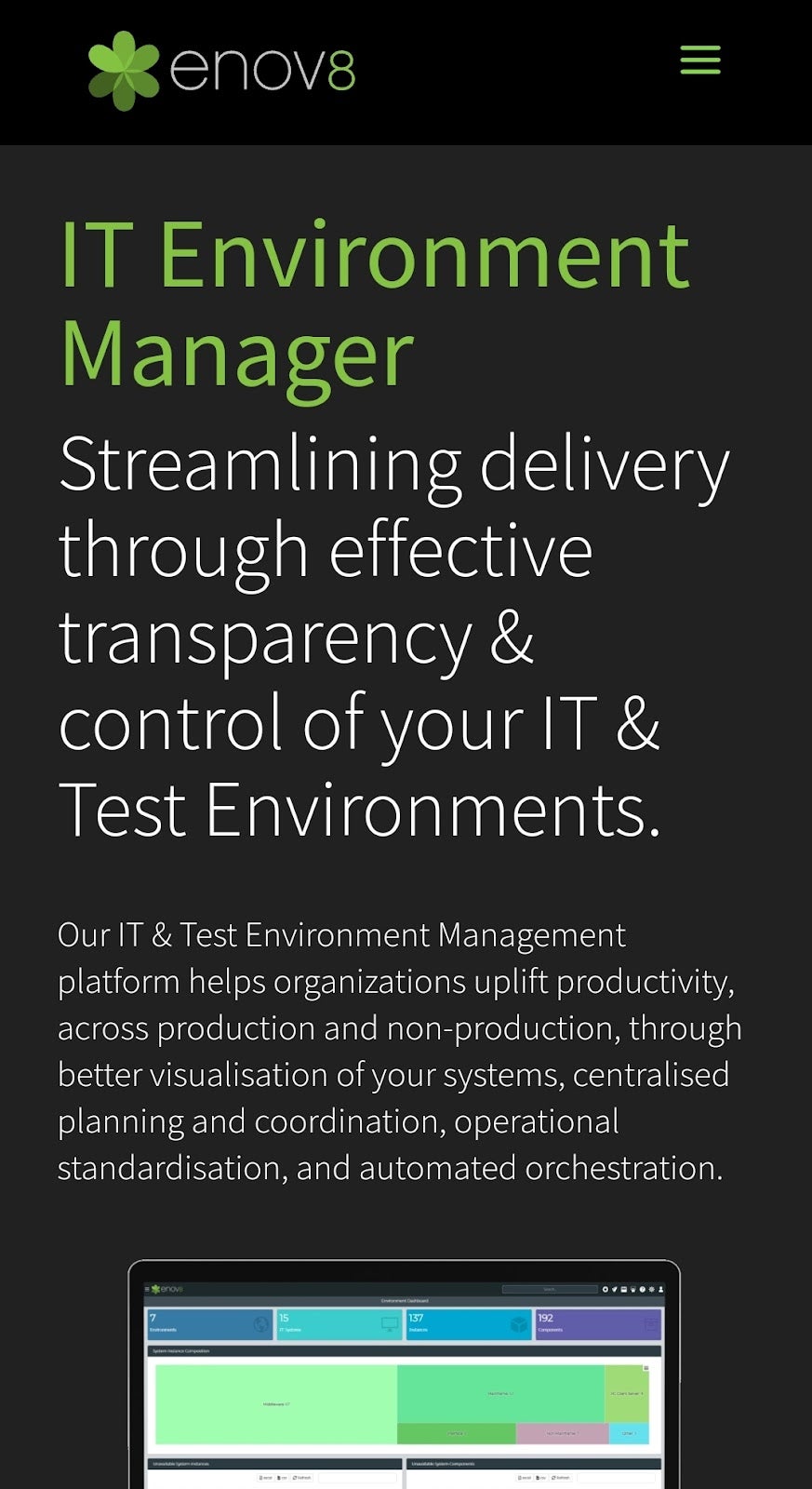 Envo8's Environment Management Maturity Index (EMMi) framework offers a comprehensive testing process that covers governance, compliance, and orchestration.
Envo8's core areas of coverage are:
Knowledge management
Demand awareness
Planning and coordination
Service support
DevOps automation
Data operations
Tools integration
Status accounting
Applause Application Testing Services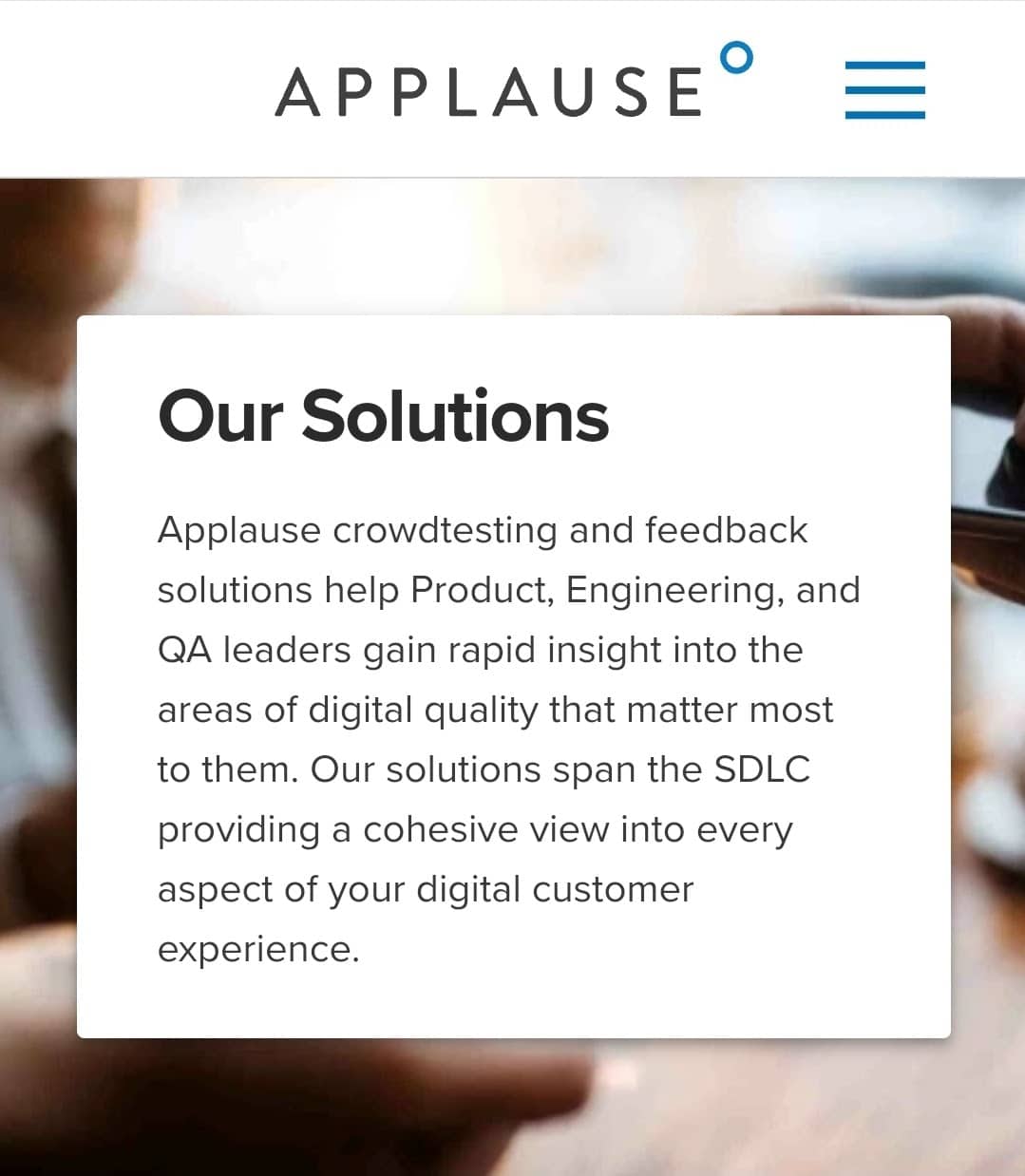 Software testing company (and pioneer of crowdtesting) Applause offers application testing services to global enterprises like Ford, Walmart, Google, Uber, and Microsoft.
Applause's Product Excellence Platform has a rather holistic approach to testing, combining enterprise-level SaaS testing infrastructure, world-class software products, a broad spectrum of digital testing solutions, and access to a global community of digital experts. Unsurprisingly, it has clients in multiple industries, including automotive, IoT, eCommerce, and B2B software.
More Testing Service Options
Other top companies providing some of the best software testing and quality assurance services include:
Conclusion
Quality is one of the key elements that determine the lifespan of a product. Hiring a software testing service contributes to the overall success of product development by quickly improving your app testing.
Externalized application testing will ensure your products offer an excellent customer experience, optimal functionality, and performance. They can also help you remain up to date with best practices that are constantly evolving in an ever-changing industry.